Released on Feb. 08, 2021
HPMC(Hydroxypropyl methyl cellulose) Introduction.

-Jinan maissen new material co.,ltd, the leading HPMC manufacturer in China.
HPMC Product Information:
Name: Hydroxypropyl methyl cellulose
Short name: HPMC
Other name: Hydromellose, MHPC, Hydroxypropyl methylcellulose
Cas Number: 9004-65-3
HS code: 39129000
The Physical properties of HPMC:
1.Appearance and properties:
white or almost white fibrous or granular powder
2.Particle size:
80mesh/100mesh/120mesh
3.Solubility:
Almost insoluble in absolute ethanol, ether, acetone; swelling in cold water into a clear or slightly turbid colloidal solution.

4.Stability:
The solid is flammable and incompatible with strong oxidants.
Chemical nature of HPMC:

1.Appearance: white or almost white powder.
2.Carbonization temperature: 280-300℃

3.Discoloration temperature: 190-200℃
4.Surface tension: 42-56dyn/cm for 2% aqueous solution.
5.Solubility: soluble in water and some solvents, such as ethanol/water, propanol/water in appropriate proportions. The aqueous solution has surface activity. High transparency and stable performance. Products of different specifications have different gel temperatures and solubility changes with viscosity. The lower the viscosity, the greater the solubility. Different specifications of HPMC have different performances. The dissolution of HPMC in water is not affected by pH.
6.With the decrease of methoxy group content, the gel point increases, the water solubility of HPMC decreases, and the surface activity also decreases.
7.HPMC also has the characteristics of thickening ability, salt resistance, low ash powder, pH stability, water retention, dimensional stability, excellent film-forming properties, and extensive enzyme resistance, dispersibility, and adhesion.


HPMC Dissolution method

1.All HPMC models can be added to the material by dry mixing.

2.When HPMC needs to be directly added to the normal temperature aqueous solution, it is best to use the cold water dispersion type, and the thickening is generally 10 to 90 minutes after adding.

3.For ordinary HPMC models, first stir and disperse with hot water, then add cold water, stir and cool to dissolve.
4.If agglomeration and wrapping occurs during dissolution, it is due to insufficient stirring or the normal type is directly added to cold water. At this time, stir quickly.
HPMC Applications
HPMC(hydroxypropyl methyl cellulose) is used as thickener, dispersant, binder, excipient, oil-resistant coating, filler, emulsifier and stabilizer in the textile industry. It is also widely used in synthetic resin, petrochemical, ceramics, paper, leather, medicine, food and cosmetics industries.

Construction grade HPMC applications
1.construction cement mortar
2.Tile adhesive
3.Gypsum based plaster/ Grout
4.Joint filler
5.Wall putty
6.Skim coat
7.Paint and coatings
8.Spray plaster
9.Cement or gypsum based products
Industrial grade HPMC applications
1.Polymerization of vinyl chloride and vinylidene: As a suspension stabilizer and dispersant during polymerization, it can be used together with vinyl alcohol (PVA) hydroxypropyl cellulose (HPC) to control the particle shape and particle distribution.

2.Bonding agent: as a cementing agent for wallpaper, instead of starch, it can usually be used together with vinyl acetate latex paint.
3.Pesticides: Add to insecticides and herbicides to improve the adhesion effect during spraying.

4.Latex: improve the emulsion stabilizer of asphalt latex, thickener of styrene butadiene rubber (SBR) latex.

5.Binder: used as a molding binder for pencils and crayons
HPMC specifications - Jinan maissen new material co.,ltd.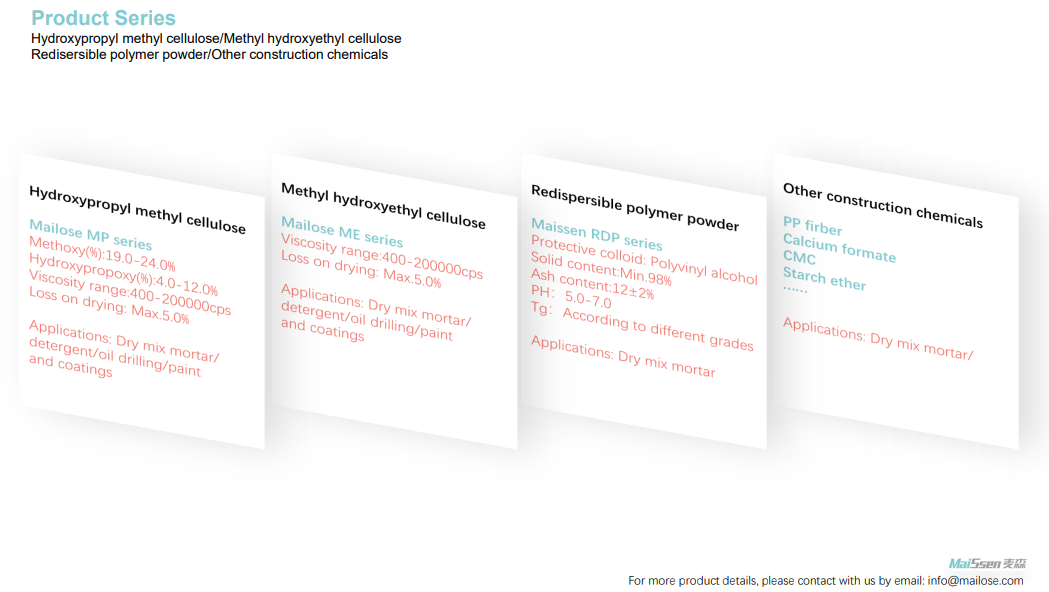 SPECIFICATIONS:
STANDARD HPMC PRODUCTS FOR DRY MORTAR: MAILOSE MP 40K(S), MP60K(S), MP 75K(S), MP100K(S), MP150K(S), MP 200K(S)
STANDARD HPMC PRODUCTS FOR OIL DRILLING: MAILOSE MP 100KOD, MP150KOD, MP200KOD
STANDARD HPMC PRODUCTS FOR DETERGENT: MAILOSE MP 100KSD, MAILOSE MP200KSD
MODIFIED HPMC PRODUCTS: MAILOSE MP 100KO, MP 150KO, MP 100KE, MP 150KE
Key words: HPMC, hydroxypropyl methyl cellulose, hpmc information, hpmc applications,