Released on Jan. 09, 2021
HPMC MANUFACTURER-JINAN MAISSEN NEW MATERIAL CO.,LTD
NEW PLANT LOCATED IN GANSUN, CHINA.
New plant include:
-PRODUCTION LINE OF HPMC

-PRODUCTION LINE OF Chloromethane (ONE OF THE MAIN RAW MATERIAL OF HPMC)
As the domestic and global demand of HPMC increase, in order to face the strict environment protection policy. We establish a new plant located in a national level industry park located in the north-west of China. It will finish all the equipment debugging and trail production before 2020 Chinese new year. In the early of 2021, it will be open for production and open for all the local and international customers visiting.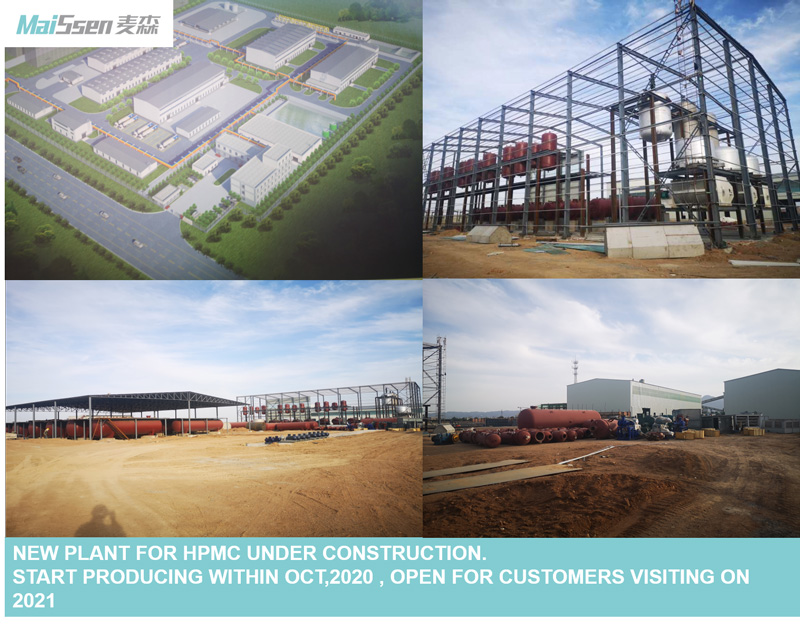 Project investment is 270 million including the production line of hydroxypropyl methyl cellulose-hpmc & production line of Chloromethane-one of the main raw material of HPMC. This new plant will mainly serve the international market to provide the stable supplying with high quality products.
Nowadays, the hpmc market is becoming more and more competitive, we are brave to meet the challenges and seize the opportunities. By producing the raw material by ourselves, we really managed to control product quality from the raw material. It is not only lower the cost, but also increase the stability of our final products. In the future, we will provide better service to all the customers based on our new plant and believe this project could also bring value to all the customers and support us with stronger competitiveness in the global market.
Warmly welcome global customers to visit it & discuss about cooperation together with us. Make values for customers is our philosophy. Based on customers' requirements, we will keep increasing quality & provide better service.
NATIONAL LEVEL INDUSTRIAL PARK
lower pressure on environmental policy
BIGGEST COTTON PRODUCTION AREA
high quality raw material stable supplying
RAW MATERIAL PRODUCED BY OURSELVES
high quality, but lower the cost
TECHNICAL SUPPORT
customized products for clients
Jinan maissen new material co.,ltd is the leading HPMC manufacturer in China.
More information about us: