Released on Mar. 05, 2021
Hydroxyethyl Methyl Cellulose short name HEMC or MHEC is widely used in water based paint, construction mortar, oil drilling etc. HEMC as a kind of dry mix mortar additives mainly make contributions to increase the workability and adjust the thickness of the wet mortar.
1.Basic information:

(1)Name: hydroxyethyl methyl cellulose
(2)Shot names: HEMC, MHEC
(3)Other name: Methyl hydroxyethyl cellulose
(4)CAS number:9032-42-2
(5)Chemical structure formula: C2h6o2·xCH4O·xPhEur2002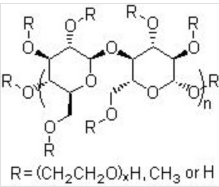 2. Main functions in dry mix mortar industry:
(1) Good Water retention
(2) Adjust thickness of wet mortar
(3) Good workability
(4) Adjust setting time
(5) Increase bonding strength
(6) Good Stability
........
3. Hydroxyethyl methyl cellulose standard
| | |
| --- | --- |
| ITEM | SPECIFICATIONS |
| Appearance | White powder |
| Loss on drying | ≤5% |
| PH | 4.0-8.0 |
| Viscosity | 400-200000cps Test method:NDJ-1,2% solution,20℃ |
4. Jinan maissen HEMC/MHEC specifications:
(1)STANDARD PRODUCTS FOR DRY MORTAR: MAILOSE ME 40K(S), ME60K(S), ME 75K(S), ME100K(S), ME150K(S), ME 200K(S)
(2)STANDARD PRODUCTS FOR OIL DRILLING: MAILOSE ME 100KOD, ME150KOD, ME200KOD
(3)STANDARD PRODUCTS FOR DETERGENT: MAILOSE ME 100KSD, MAILOSE ME200KSD
(4)MODIFIED PRODUCTS: MAILOSE ME 100KO, ME 150KO, ME 100KE, ME 150KE
5. Recommended specifications in different kinds of dry mix mortar products:
Block laying adhesive

Mailose MP 150K/ME150K

Mailose MP40K/ME40K

Cement or gypsum based plaster

Mailose MP100K/ME100K

Mailose MP60K/ME60K

Cement or gypsum based one coat

Mailose MP60K/ME60K

Mailose MP40K/MP40K

Tile adhesive

Mailose MP150K/ME150K

Mailose MP200K/ME200K

Mailose MP150KO

Mailose MP200KO

Joint compound

Mailose MP40K/ME40

Gypsum spray plaster

Mailose MP75K/ME75K

Mailose MP75KM

Skim coat/wall putty

Mailose MP100K/ME100K

EIFS adhesive mortar

Mailose MP150K/ME150K

Mailose MP100K/ME100K

EIFS surface mortar

Mailose MP100K/ME100K

Mailose 60K/ME60K

Self-leveling mortar

Mailose MP400
Jinan maissen new material co.,ltd is the majar producer of cellulose ether and redispersible polymer powder in China.
Our main products includes:
Hydroxyethyl methyl cellulose-HEMC/MHEC
Hydroxypropyl methyl cellulose-HPMC
Redispersible polymer powder-RDP
Other additives used for dry mix mortar industry: PP fiber, CMC, Starch ether, water reducer etc.
For more information pleasse contact with us: bruce@mailose.com
Key words: Hydroxyethyl methyl cellulose, HEMC, MHEC, dry mix mortar additives