Released on Jul. 22, 2022
HPMC For Cement Based Render/Plaster/Mortar, Good Water Retention, Longer Open Time, Better Workability, Crack Resistance, Sag Resistance.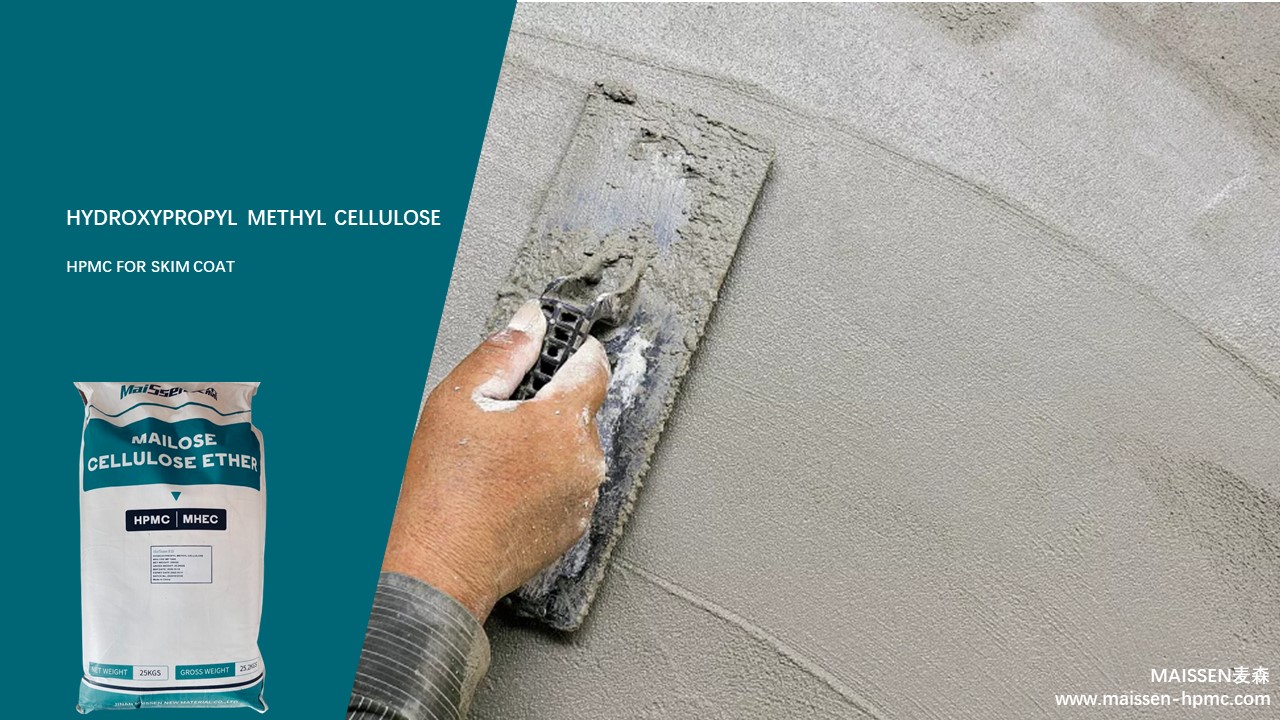 HPMC for cement Description:
Due to the difference of region and raw materials, different customers require different HPMC for cement based render/plaster/mortar. MAISSEN can offer different kinds of HPMC for this application to improve the properties of water retention, open time, anti-crack, anti-sag, workability, etc.
Typical properties
| | |
| --- | --- |
| Appearance | White to off-white powder |
| Particle size (100%) | 0.13-0.16mm |
| Methoxyl content(%) | 19-25 |
| Hydroxypropyloxy content(%) | 4-12 |
| Gelation temperature(℃) | 60-90 |
| Moisture (%) | ≤5.0 |
| PH value | 5.0-8.0 |
| Residue on ignition(%) | ≤5.0 |
Properties of HPMC for mortar
Water Retention
The superb water retention of Hydroxypropyl Methylcellulose permits the cement to have a longer time to moisturize and boost the bond of the mortar to the substrate. It efficiently avoids the mortar from shedding water also promptly as well as causes drying out as well as fracturing, and also makes the mortar have a longer building time.
Building Enhancement
The thickening effect of Hydroxypropyl Methylcellulose can control the mortar to attain the most effective consistency, improve the communication of the mortar, accomplish the anti-dripping effect, enhance the operability, as well as greatly boost the building effectiveness. The consistency as well as slip resistance of the mortar is a very important demand. For thick layer construction as well as tile adhesive, the mortar requirements to have the appropriate consistency as well as slide resistance.
Improve the Bond Strength of the Mortar
Hydroxypropyl Methylcellulose can improve the bonding strength of mortar, also in high temperature setting, it can make sure sufficient wetness of mortar, as well as make concrete totally moisturized, therefore making sure much better bonding performance of the mortar and making sure mortar to numerous substratums. All have a good bonding result.
Air entraining representative

In mortar, because of the enhancement of Hydroxypropyl Methylcellulose, a certain amount of little, uniform as well as stable bubbles are presented right into the fresh mortar. Due to the sphere result, the mortar has excellent workability, lowering the shrinkage of the mortar as well as the fracturing, raise the return of the mortar.

Features of HPMC for mortar:
• Very good open time
• High water retention
• Thermal stability improved
• Less retardation of cement hydration
• Excellent sag resistance
• Improve the rheology of the plaster
• Good consistency
• Good workability(no lump): easy use
• Good anti-crack, anti-shrinkage